Getting older happens, Feeling older does not have too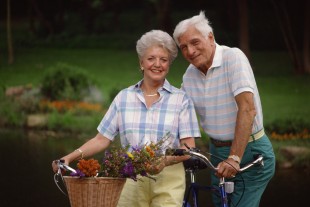 Aging is inevitable, but many of the degenerative changes in the body are not. You must take the proper steps to prevent this, but it is possible.
Medical research shows that proper nutrition with a balanced, natural, vitamin and mineral supplement, can slow down or even prevent many debilitating conditions. Some examples would be: heart disease, osteoporosis, and diabetes.
Did you know that almost one half of the health problems in the elderly are related to diet. Our elderly are among the most poorly nourished of all people. The reason for this is really quite simple. As you age your sense of smell and taste decreases. When this happens food does not look as good to you as it did when you were younger. Also, there are more health problems that make food less appealing. It is harder to chew, you get constipated, there are more digestive problems, and you just plain old don't feel hungry.
Your body composition changes with age also. Your muscle mass decreases because you are not using them the way that you once did. Your metabolism slows down and you need to consume far less calories. If you fail to cut back, it is most likely that you will gain weight and be at risk for several of the diseases that we mention earlier.
As you get older, the body is not as good at absorbing or using up some of the nutrients that it consumes. Some of those that may need to be increased or replenished as you get older are:
Calcium: This is what gives us healthy bones. An elderly person may need to take a supplement to prevent such things as osteoporosis. This is especially true of woman.
Vitamin D: The body needs this to help it absorb the calcium.
Vitamin B-12: This helps to build red blood cells.
Vitamin E: This is important to help ward off heart disease.
Zinc: This helps the bodies immune system which can be affected by aging as well.
Potassium: This is important to help with high blood pressure and can be depleted by some of the medications used to treat it.
Most times, it is just a matter of a daily, balanced, natural vitamin and mineral supplement, to help you replenish what you are lacking. Sometimes it may be more. This you need to discuss with your doctor, as you make plans for a healthier lifestyle.
Here are just a few tips to help a person as they get older to plan for a better diet and a healthier quality of life:
Plan regular meals for the day and try to avoid so much snacking. If it is a must to snack try things like fruits and vegetables instead.
Make meal time something to look forward too. Even if you are eating alone you can make it fun. You may want to set your table up. Put on some candles. Pull out your favourite cloth napkins. Treat yourself to some music. The possibilities are endless.
If you have trouble chewing–switch to things like fish or ground meats. Soups can be wonderful and much better for you than just something to drink.
Add some color to your plate. Dress it up. Add some greens, sprinkle some of your favourite spices. Give your plate some personality.
These are just a few ideas on how you can take steps to maintain your health as you begin to age. Getting older happens/feeling older does not have too.
Tags: anti-aging, energy, health, health and wellness, healthy, immune system, minerals, multivitamin, natural vitamins, stress, supplements, vitamin, vitamin deficiency, vitamins, wellness